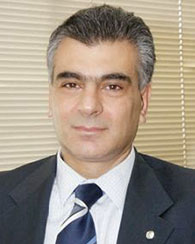 Dr. Sélim El Sayegh
Sélim El Sayegh is a Professor of Law and International Relations at the University of Paris since 1993. He is currently the Director of the Master's Program in Diplomacy & Strategic Negotiations and the director of CADMOS (Center for the Analysis of Disputes and their Modes of Settlement). He is the Co-Founder and Vice-President of the American Graduate School of Diplomacy and International Relations in Paris affiliated with Arcadia University in the USA since 1995. He serves as visiting Professor in different universities around the World, mostly in China, South-East Asia, Central Asia, Europe, North America and North Africa. His main area of specialization is conflict resolution, negotiation, diplomacy & development. His current interests are "Education in Emergencies", "Capacity Building for NGOs", "the implementation of the Social Pact", "the Neutrality of Lebanon", "Intercultural Dialogue and Peace Education", "the Management of Diverstiy".
El Sayegh was the Minister of Social Affairs from 2009 till 2011 serving under the Hariri Government. During his position in government, he developed policies and strategies that excelled the social sector in Lebanon. He led the development of the Social Pact and the National Strategy for Social Development in Lebanon; oversaw the implementation of the Good Governance Standards to NGO's; created the 1st Middle Eastern Master's Degree of NGO Management; established the National Documentation Center for Childhood; launched the "Child Friendly Cities Initiative" in three pilot municipalities; and developed the elderly care taking centers standards. El Sayegh led the establishement of the National Poverty Targeting Program, the "National Program Against Addiction, and published the "Nahar al Kafif", the first braille language weekly paper in the Arab World with al-Nahar Group, al-Mabarrat Foundation and CADMOS.
EL Sayegh is an internationally and regionally recognized expert in his field. He currently serves as Senior Adviser for the UNESCO Program on Intercultural Dialogue. He has been on the board of World Bank for Social policies in the MENA since 2012. He is a distinguished lecturer and frequently quoted in the national and regional media. He has also obtained a number of international academic professional awards and appointments. He is the author of numerous publications in French, English and Arabic.
El Sayegh received his PhD in International Law and National accreditation to supervise PhD Thesis from Paris University in 1992. He has DEA (M.Phil) in History from the Sorbonne University (Paris I) and in Diplomacy and International Relations from Paris-Sud University in 1990 and 1989 respectively. He has Bachelor degrees in Political Science, Law, and Business Management from different universities in Lebanon in 1986, 1985 & 1983 respectively.