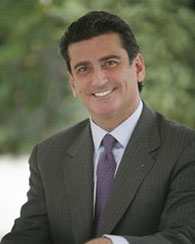 Mr. Misbah Ahdab
Misbah Ahdab is currently Member of the Lebanese Parliament. Born in Lebanon on April 1, 1962, he holds a degree in Business Administration from the European Business School in France, and another degree in Economics from the London School of Economics.
In 1983, Mr Ahdab started working in the private sector. In 1992, he was appointed as Honorary Consul of France in Lebanon, until the year 1996, when he was elected for his first term in the Lebanese Parliament. He is member of the Finance and Budget Committee, as well as the Defense Committee in Parliament. He was reelected as an independent in 2000 for a second term, and in 2005, for a third term.
Mr Ahdab is Vice-president of the crossconfessional Democratic Renewal Movement that he co-founded in 2001 with MP Nassib Lahoud and other politicians. He is also President of the Lebanese-Italian Friendship Association.
The first Muslim Sunnite to attend the Bristol Gathering in 23rd September 2004 (meeting of the Lebanese opposition requesting Syrian withdrawal from the Lebanese territory).
Mr Ahdab participated in many conferences, including a round table at the French Senate, as well as Youth Leadership gathering in Norway. He also made a presentation at a Workshop at the World Bank in Rabat, Morocco, about the linkage between political and financial reforms.
In September 2006, Mr Ahdab was speaker at the Washington Institute for Near East Policy ,also at the Middle East Institute and the Wilson Center, about Lebanon after the July 2006 war.
In January 2007, he participated in Madrid+15 (Madrid Fifteen years later towards peace in the Middle East). On 18th May 2007, he participated as a panelist at the World Economic Forum, in Jordan.
He took part of several political talk shows on Arab and International televisions.
Mr Ahdab is awarded:

-The "Order of Merit" of the Italian Republic, Knight Commander, for distinguished services.

-The "Order of Merit" of the French Republic, Officer.